Friends of Fakahatchee: Dedicated to financial and volunteer support to preserve the unique ecology and cultural heritage of Fakahatchee Strand Preserve State Park and educate the public about its importance.
In the News
Friends of Fakahatchee Welcome Back Lunch Dec 16
November 27, 2017
Join us for lunch as the Friends of Fakahatchee host their annual "welcome back" gathering Saturday, Dec. 16 at noon in Kapnick Hall at Naples Botanical Garden. "We're excited about meeting in such a beautiful location that gives attendees a chance to tour the gardens after our lunch," said Patrick Higgins, Friends of Fakahatchee president. "We hope the new time will encourage our members and the public to participate as we kick off our new
. . . Read More
---
Irma hits Fakahatchee, but park will recover
October 3, 2017
We managed to reach the alligator hole after about an hour of struggling, some of which was on our hands and knees. Although it is a mess, the Boardwalk fared remarkably well. Most of what needs to be done is cosmetic, such as debris clearance. There were only 10 places with noticeable physical damage to the structure, largely the railings.
. . . Read More
---
New Fakahatchee Video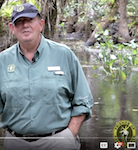 February 6, 2017
The Jewel of the Everglades A new 6-minute video by Jay Staton and Patrick Higgins leads you through the Fakahatchee on all of your electronic devices! As you explore the wonderland of the foliage and wildlife, Patrick's narration gives a Naturalist's overview of the Fakahatchee Preserve State Park vast landscapes. Donate to the Boardwalk Expansion!
. . . Read More
---
Follow us on Facebook
Join us.
The Friends of Fakahatchee want you to share our excitement about the Fakahatchee, join our community, and catch the "FAK-A-HABIT." If you come to this 85,000 acre wilderness, you will find the lush plant and animal life of the real Florida that you may have thought vanished. Join us.
Hydrologically linked to the Everglades system and particularly important to the estuarine ecosystem of the Ten Thousand Islands, the Fakahatchee is crucial habitat to many threatened species including the Florida panther, Florida black bear, American crocodile, wood stork, mangrove fox squirrel and the Everglades mink. It is also home to 47 native orchids (including the elusive Ghost orchid), 38 native ferns, 14 native bromeliads and is recognized as the orchid capital of of the United States, as well as the best example of a subtropical, strand swamp in North America.
But it's more than a swamp. It's a mosaic of cypress forest, wet prairies, tropical hardwood hammocks, salt marsh, mangroves, sloughs and majestic royal palms.
"
My husband and I took the Swamp Walk yesterday and had a GREAT time. We are already thinking of returning to this magical place! Kudos to the Friends of Fakahatchee.
Whether you walk the Big Cypress Bend Boardwalk through one of Florida's last remaining stands of virgin old-growth cypress, reserve a spot on our tram ride, join us for a swamp walk, become a member or donate, you will be helping to preserve a truly special natural and cultural landscape featuring the largest population of native royal palms in the United States.