by Patrick Higgins
Autumn has come to the Fakahatchee; not with the spectacular color display of the northern woods but nevertheless it's here. You just have to look a little closer for subtler signs, and I don't mean the proliferation of out-of-state license plates. In early October it seemed like mother nature had suddenly turned off the tap and we went instantly to the brilliant blue cloudless skies of the dry season and the cooler nights of autumn.
Here though in southwest Florida, nearer the equator, the shortening days of autumn have a less dramatic effect on foliage than up north. Cooling doesn't become significant until much later in the season, so it's the dry-down that has biggest impact. We see one last fling from many plants and a super abundance of food. Holly, beautyberry, myrsine, sabal palm and wild coffee are laden with fruit, and our oaks are beginning to produce a welcome bounty of acorns. This comes at the very time when the nutritional value of our prairie grasses are ebbing to its lowest.
Even though they don't hibernate, our Florida black bears – in response to primordial patterns – will be fattening up on this excess. The bears are preparing for 'winter' denning from late December through March, when they will reduce activity and the females will cub.
Already the water has left our marl prairies. Drying periphyton is leaving a khaki film that will add minutely to the very thin soil layer. Muhly grass is beginning to cast a purple haze over the grasslands, especially in areas that were burnt earlier in the year.
Along the lower sections of Jane's Scenic Drive there's a lushness of impending senescence and an explosion of flowering in a rush to set seed. Tall, tasseled phragmites are bending to autumn winds, and masses of broom sedge are spreading their fluffy seeds. Spikes of goldenrod are adding color amongst the delicate white umbels of water dropwort that remind me of Queen Anne's lace back home in England. There's a riot of creamy-white climbing hempvine covering almost everything, and the needles of lonely dwarf pond cypress are browning.
In the swamp, clamshell orchids are blooming under an already thinning canopy. Pop ash are casting off their leaves and the normally seasonally confused red maples seem to be getting their act together. Carolina willow just gives up: its leaves blacken, whither and quickly drop off. Dogwood foliage has a pretty scruffy end too, but the undersides of giant leather fern fronds now have a glow of golden brown spores.
Through a combination of evaporation and a fresh infusion of cypress branchlets, the water is darkening to the color of stewed tea. Our snakes are a little more visible in autumn as they climb more frequently out of cooler water onto old stumps or cypress knees to thermoregulate.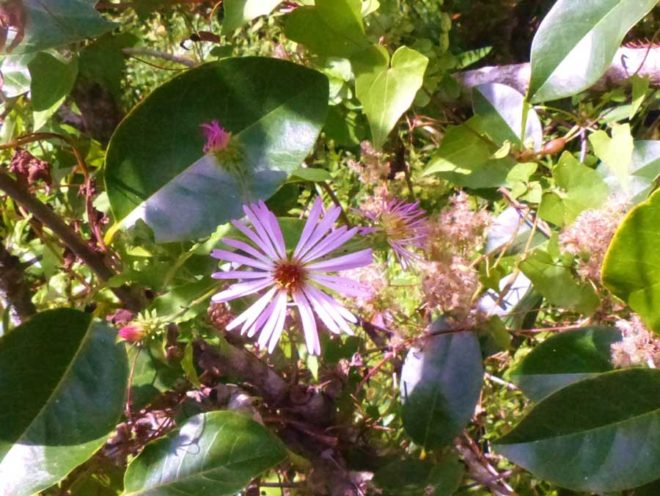 Along our trams, poison ivy and Virginia creeper are reddening, and the saltbush have a dusting of white flowers. Fresh, green toothpetal orchid stalks are thrusting upwards out of the leaf litter. There's a profusion of buckeye butterflies, their numbers augmented by northern migrants. I also notice quite a few ruddy dagger-wings visiting the purple-tinged climbing asters which are now at their peak.
There's still plenty of water about elsewhere, so there aren't yet huge congregations of wading birds in the Fakahatchee. However, at the very beginning of Jane's Scenic Drive, just before the park entrance where the borrow ditch is most shallow, a mixed flock of ibis and egrets are feasting on newly concentrated prey and roosting in nearby trees in between.
As the season and dry-down progresses, so they will advance up the Drive until they reach the deepest sections of the borrow ditch. Their large numbers by then will produce enough phosphate-rich guano to sustain the out of place cattails for another season.
Our swallowtail kites are long gone, but I saw my first wheeling flight of white pelicans, newly arriving from the western lakes. The signs however are not just visual; there's the rattling of dried leaves and seed pods in the wind, and I think I heard the faint turkey-like wattle of distant Sandhill cranes. So we do have seasonal change, it's just a little bit slower and only apparent in the detail.

Patrick Higgins is a National Association of Interpretation Certified Interpreter, Vice-President of the Friends of Fakahatchee and Project Manager for the development of the Boardwalk Master Interpretive Plan.